WARRANTY POLICY
IROAD BRANCH COMPANY SINGAPORE
CORVIT warranty period of the unit starts from the day of purchased.
No After-sales Service will be provided if the device is being customized or change when installing on to the car.
During the warranty period, if the device encountered any defects or any issues.
The replacement will be provided with a 1 : 1 exchange unless the defects is caused by the user or 3rd party program/accessories and it is subject to the CORVIT's terms and conditions.
However, if the product is no longer in production / discontinued.
We might used re-conditioned / refurbished unit for our replacement.
If the purchased date of the product is within three months from the date of production.
Purchased receipt is required for verification at our CORVIT office for After-sales Service (A/S).
When purchasing the product, be sure to keep the Warranty card and purchase receipt for verification.
WARRANTY PERIOD
Product(Front/Rear camera) : 1 Year
Memory card , External GPS , WiFi dongle : 6 Months
Fuse Cable / Rear Cable / Cigar power Cable : No Warranty will be provided.
IF ANY AFTER-SALES SERVICE (A/S) IS REQUIRED
Should this unit encountered any defects, it is best to check with the dealer for any frontline supports / solutions.
Should they fail to resolve your matter and you are still facing issues on your unit.
Please do contact us via email (sg@iroad.kr) or www.iroad.sg or (Tel : 6659 0141)
SINGAPORE WARRANTY CARD
No After-sales Service will be provided in case the warranty card is being damaged/lost.
All products are shipped with a SINGAPORE warranty card in the box.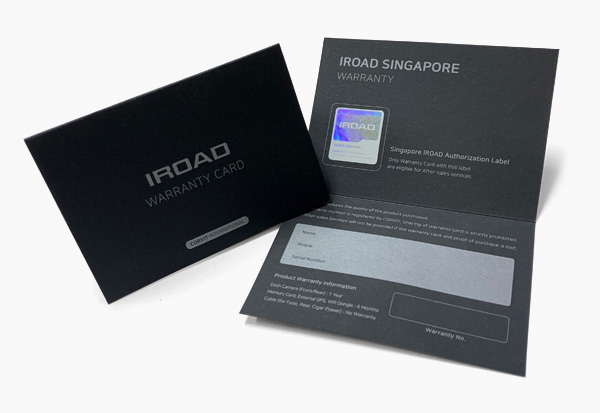 WARRANTY TERMS AND CONDITIONS (A/S) IS REQUIRED
After-sales Service will not be covered under certain conditions as stated below
If the device was not purchased directly from CORVIT or CORVIT Official Dealers / Retailers.
(After-sales Service will not be provided if the unit is purchased from online platforms such as Carousell, Gumtree, Facebook, etc.)
Products that are operated in combination with ancillary and/or peripheral equipment that is not furnished or otherwise certified by CORVIT as a result of damaging the products or ancillary and/or peripheral equipment. Corvit will not be liable for any damages as stated above.
Example : Using a other brand memory card or a battery pack or fuse cable, etc.
CORVIT is not liable for any damages, loss or missing of data for any reasons, product damage or personal injuries that occur due to accidents or natural disasters.
IROAD Dash Cam records and saves video of vehicle accidents.
IROAD Dash Camera records and saves video when the vehicle encounter accidents.
However, it doesn't not guaranteed to record all accidents. (Accidents with light impact that is not enough to activate the impact detection sensor may not be recorded)